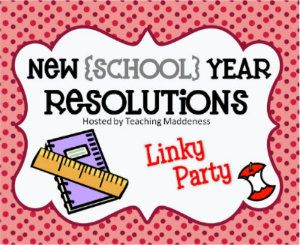 Amanda at
Teaching Maddeness
is hosting a Linky Party to discuss our resolutions for the new school year. I joined thanks to Hilary at
Fifth Grade Fancy
!
*BONUS! She is celebrating 100 followers and doing 2 giveaways. You should totally go follow her blog now and enter!*
Now back to those resolutions...
Resolution #1:
DOCUMENT! I know I do a good job at keeping materials and supplies organized in my classroom. I keep my classroom looking organized but I feel like I don't do a good job at organizing my documentation for parent communication & interventions. I have several ideas for making a binder just for these purposes and I really want to commit to doing a better job in this area.
Resolution #2:
COMMIT! I'm terrible about deciding I don't like the way something is working or looking after a few weeks. This goes for my lesson plans, desk arrangement, newsletters, and more! I waste so much time changing things around. I need to be better about deciding to at least stick to it for a full quarter or semester!
Resolution #3:
TAKE PICTURES! I have this fancy new camera I got for Christmas and I rarely use it for the sole fact that I just don't think "oh, this would be a great thing to take a picture of!" I don't have any pictures of just my classroom from last year. Sure, you can see it in the background of the 2 or 3 occasions I remembered to take pictures of but I didn't take a picture of my reading corner, my desk organization, or desk arrangement. I also need to do a better job of taking good pictures of student work. Most of these pictures are from my cell phone because I didn't think about taking my camera to school.
Resolution #4:
BLOG! I want to write for my blog at least 3 times a week. I know it will help me do a better job of documenting what I've done and force me to remember to take pictures. It won't necessarily help me commit to things because reading blogs is part of what makes me want to change things around! I'm planning on doing interactive student notebooks for math and possibly science so follow my blog for more on those!
So what are your resolutions? Leave a comment, join up, and let me know!